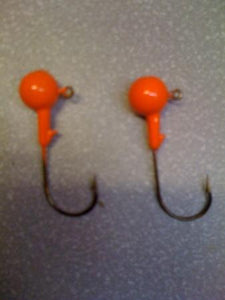 Painted 1/2oz Roundhead Jigs with Barb
Regular price $45.99 Sale
100 Pack
1/2oz Round Head Jigs
Pictured Color is: Blaze Orange*
**Please let me know what colors you would like, or I will not be able to ship these to you!!
I use powder paint  and I also bake them at 350 degrees. This cures the paint and makes it durable and hard to chip!!! These last a lot longer than the ones you buy at the store. Also SO MUCH CHEAPER THAN THE STORES!!
If you have any special request please let me know. I will see what I can do for ya!!:)
Remember, "Take a Kid Fishing". It is more fun watching them catch the "Big One"!!
WARNING!! THIS PRODUCT CONTAINS LEAD!! PLEASE HANDLE WITH CARE!!